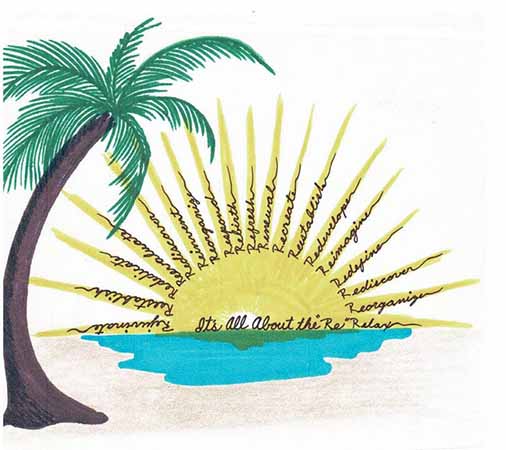 REmembering
ST AUGUSTINE, FLORIDA!!!
2017 Madonna Interfaith Community Conference
FRIDAY, OCTOBER 20 – SUNDAY, OCTOBER 22, 2017
It's all about the "RE"
Remember, remind, renew, relax, review, rewind, reinstate, reinvent, release, results, redefine, reconnect, receive, review, rejuvenate, re-calibrate, realign
At the Beautiful and Intimate –
Holiday Isle Oceanfront Resort
860 A1A Beach Boulevard, St. Augustine, FL 32080
www.holidayisleoceanfront.com
Well, okay.  Truth be told – it did not quite happen this way.  However, we did stay at this sweet oceanfront hotel. 
HERE'S WHAT REALLY HAPPENED!!
VENUE FOR THE CONFERENCE MEETING HAD A LAST MINUTE CHANGE:  
Due to construction challenges Holiday Isle was not able to accommodate the conference meeting space we reserved.  But our gracious Conference Chair, Bishop Stacey, rose to the occaison and moved the actual meetings to her home.    Since the lodging was only a mile away from Stacey's beautiful home, shared with her sister Andrea. 
WHAT ELSE IS THERE TO DO: **Stacy has secured group rates to visit the St. Augustine Ghost Tour on Saturday evening following dinner sometime between 8 pm and 10 pm.  Also group rates for Sunday afternoon Trolley excursion which include stop off admissions to some of the most popular attractions.  THIS IS A GOLDEN OPPORTUNITY TO VISIT THE OLDEST CITY IN THE US!  The total group rate for all is $65.00 – a great bargain!
We Look Forward To Seeing You There!