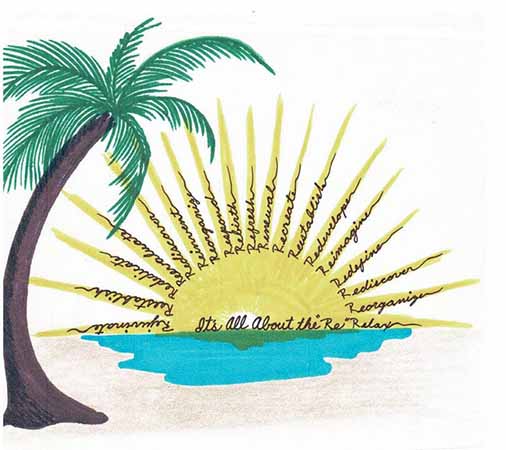 JOIN US IN ST AUGUSTINE!!!
2017 Madonna Interfaith Community Conference
FRIDAY, OCTOBER 20 – SUNDAY, OCTOBER 22, 2017
It's all about the "RE"
Remember, remind, renew, relax, review, rewind, reinstate, reinvent, release, results, redefine, reconnect, receive, review, rejuvenate, re-calibrate, realign
At the Beautiful and Intimate –
Holiday Isle Oceanfront Resort
860 A1A Beach Boulevard, St. Augustine, FL 32080
www.holidayisleoceanfront.com
Conference Registration Fee:  Only $125 per person
A refreshing beverage pool side
A Tropical Business Center
Here Are Some Important Details
VENUE FOR THE CONFERENCE MEETING HAS BEEN CHANGED:
Due to construction challenges Holiday Isle is not able to accommodate the conference meeting space we reserved.  But the conference will go on and the room rates are valid.  Since the lodging is only a mile away from Stacy's beautiful home,  we will be holding the meetings at her place.  MOST MEALS will be served at Stacy's with the exception of

Saturday

evening.
LODGING: Group rate is $129 per night per room, double or single occupancy (This is separate from Conference Registration Fee). You may want to share. We have reserved a block of 10 rooms. We have only one room still available at this rate.  Please contact Madonna Ministry direct if you want to utilize this room  The $129 rate also applies to 3 days before and 3 days after the conference should you wish to explore the beauty and history of St. Augustine and extend your stay. .
TRAVEL TO AND FROM: The two closest airports are Jacksonville and Daytona Beach. Sanford international is also a possibility for smaller airlines. These three airports are about 90 minutes from the hotel. Orlando International is a major airport which is about two hours away. Taxis from the airport are about $85.00 and can take up to 6 so try to plan your arrivals together if possible. We may also be able to secure a corporate account with a shuttle service that runs as well. So stay tuned for updated information on other perks.
WEATHER: It will still be warm there so be sure to bring swimwear and sunblock. The hotel is about 10 steps from the ocean and there is a pool too.
SHOPPING AND RESTAURANTS: There are stores and restaurants within a half mile so if you need anything it is available. .
WHAT ELSE IS THERE TO DO: **Stacy has secured group rates to visit the St. Augustine Ghost Tour on Saturday evening following dinner sometime between 8 pm and 10 pm.  Also group rates for Sunday afternoon Trolley excursion which include stop off admissions to some of the most popular attractions.  THIS IS A GOLDEN OPPORTUNITY TO VISIT THE OLDEST CITY IN THE US!  The total group rate for all is $65.00 – a great bargain!
FOR MORE INFORMATION: If you have any questions or would like to talk to me or help out, please call me at 201-602-5057 or by email at staceymccann8@gmail.com.
Conference Registration Fee $125 per person
(Credit Cards Accepted via PayPal)
We Look Forward To Seeing You There!