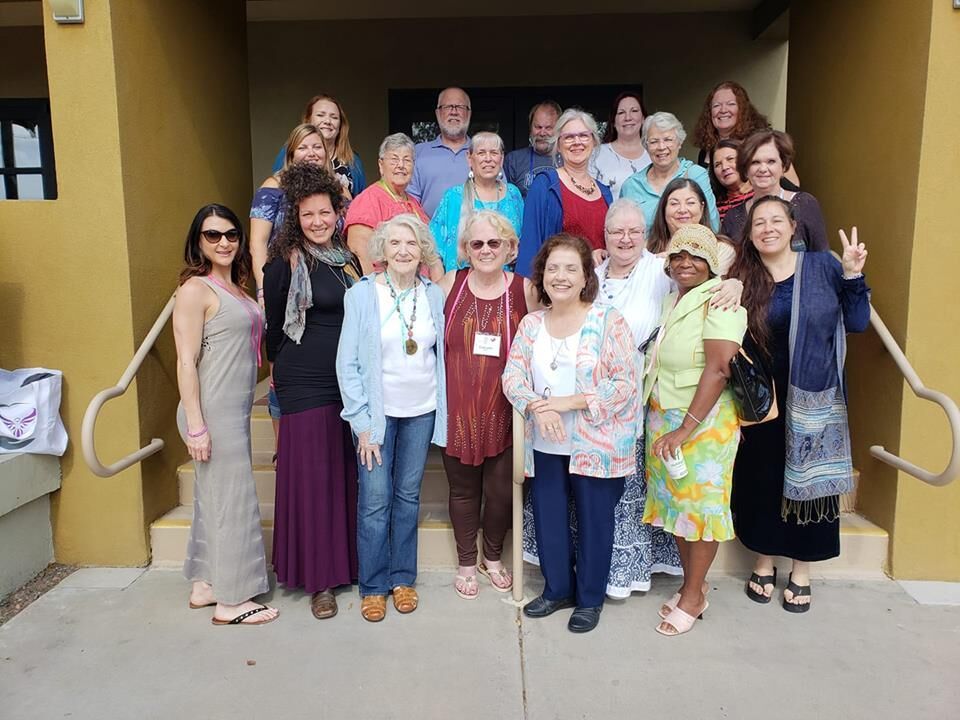 A Precious Gathering of Beautiful Souls!   
at the 2018 Madonna Interfaith Community Conference
BUILDING COMMUNITY
Though Service, Education and Fellowship
FRIDAY, OCTOBER 19 – SUNDAY, OCTOBER 21, 2018
REFLECTIONS on the 2018 Madonna Interfaith Community Conference.
"BUILDING COMMUNITY"
Our annual Conference was held from October 19 – 21, 2018 in Phoenix, AZ. We had about 24 people in attendance and everyone seemed to have a wonderful time! Our theme was "Building Community" and we all worked and played hard together to do just that! We had dinner and a board meeting at Jenny Dickason's house on Thursday night.
Friday afternoon we began our opening ceremonies with a lovely Hail Mary prayer in Gaelic by Isis Phoenix. Randy Dickason played Native flute while we did the Interfaith Candle Lighting and called in the directions. Introductions served to help us discover the names, talents and other information about attendees. That was followed by a three-part discussion on Building Community that included a session on Service (led by Terrie Riley) Education (led by Cynthia Cebuhar) and Fellowship (led by Jenny Dickason). After dinner, Andrew Ecker and Monica Patton brought in drums and led all of us in an energizing drumming circle. They also played for our own Marianna Riley and her daughter, Bella, who performed a short program of belly dance for our enjoyment!
On Saturday morning in a very sweet ceremony, we ordained new Ministers, up-leveled a few Ministers to Priestess and consecrated several new Bishops. There is always something magical about bringing new people into the Ministry and up-leveling others! After lunch and a bit of free time, we all attended an afternoon concert by the remarkably talented CELIA. She left us floating on clouds of joy as we tried to ground ourselves with some dinner! The evening ended with a Puja presented by Isis Phoenix and EveLynn Maurine, after which we found our way to our beds, weary but happy!
Sunday morning our new Ministers, Priestesses and Bishops were responsible for creating a service. They did a wonderful job! Everyone had a part of the planning and execution and those of us privileged to watch were very grateful for the effort and love that went into the creation of the service. It was live-streamed on our Facebook page and a few people who couldn't be there in person got the chance to attend through the live stream. The Sunday service was followed by the Closing Ceremony and group picture. For those that stayed, Sunday afternoon found us car-pooling to The Crystal Barn in south Phoenix. Owned by friend of the Ministry, Linda Jacobson, it is truly a unique place to shop and look at some of the most beautiful crystals!
In between the scheduled events we all practiced our healing modalities on each other and gave or received readings. We all made new friends and cemented old friendships. This was truly a Conference that lived up to its theme of Building Community! Thanks to all who attended and brought their gifts and talents to share!
The planning committee and the Community has decided to keep the Conference in the Phoenix area for the next couple of years. 2019 Will be held at the Dobson Ranch Inn in Mesa. The late September dates will be announced soon.