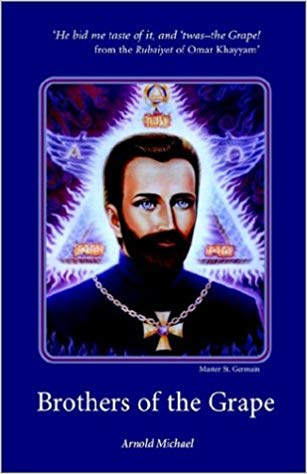 Brothers of the Grape  by Arnold Michael, D.D., L.H.D.
This novel contains a poignant and profound love story, high adventure, and absorbing intrigue, it contributes much more than entertaining reading; its plot is progressed by the human soul's inherent hunger to ennoble itself.
The story of Brothers of the Grape centers on five members of the Brothers of the Grape fraternity at the Sorbonne University in Paris. The setting is in France, Albania, and Greece during World War II. Because of the war and the fact that each "brother" is from a different nation, they suddenly find themselves pitted against each other in a conflict of love and hate. Moneigh, an incarnation of Ascended Master St. Germain, appears when he is needed to guide the members of the fraternity, as well as the reader, to a state of greater self-unfoldment. And Truena, the Albanian village heroine, emerges as teacher, guide, and beloved to the hero, Alex. Together, they join hands and hearts as peace bearers in sacred union.
"Brothers of the Grape is what I would call one of the first true world novels. It shows the drama of a fundamentally common humanness being literally hacked by national and cultural divisions. The world is in dire need of a new global world literature transcending all territorial and human divisions. Brothers of the Grape is a remarkable example. It could have been written by a member of the United Nations Literary Society."
– Dr. Robert Muller, former UN Asst. Secretary General and Board Member of University for Peace, Costa Rica – Arnold Michael, the author, is a true Brother of the Grape. He learned to take his guidance from the Sovereign Alchemist and from the discoveries of his predecessors. His writing is highly intuitive and gives us hope in creating a Golden Age in our Global Community.